Isaac Newton said in 1676: "If I have seen further, it is by standing on the shoulders of giants."
Where does our history start? Let's choose 1939, at a point in British gliding when things were really accelerating in terms of distance and heights achieved. In particular, I am noting some flying in the North of England, as it happens about 1 mile away from Edensoaring's site at Skirwith (no coincidence), under Cross Fell which, at 2900ft approx., is the highest summit in the Northern Pennines, and England outside the Lake District.

In June 1939 Noel Mclean took a launch, in his Grunau open single seat glider, from Bank Hall Farm which lies at the foot of Cross Fell. He and his friends from the Newcastle Club knew about the potential for soaring in the famous "Helm Wind" which is the easterly wind which pours down from Cross Fell and the long ridge extending north and south. This wind, in the right conditions, sets up a lee wave system which can produce vertical velocities of up to 10 to 20 knots (1000 ft. per min to 2000 ft. per min). Noel had a wild flight in "The Helm" after launching almost straight into the "primary", taking him to over 11,000 ft. and gaining for him the UK National Height Record. He did not hold the record for long, a few weeks later in July 1939 Philip Wills soared a large cumulus cloud near Dunstable to take the record for the southerners. The outbreak of war in September 1939 temporarily halted the rush of these heroes in their gliding activities. You can read accounts of these exploits in Terence Horsley's "Soaring: The Art of Gliding", in Philip Wills' "On Being a Bird" and in "The Story of Gliding" by Ann and Lorne Welch.

Noel McLean and his group used a Studebaker 6-cylinder-engined car as their winch (with cable drum attached to a rear wheel, and the rear differential fixed). The remnants of the winch can still be found nearby, see photos below:

Unfortunately, I have not (yet) discovered any information or other photos regarding the Newcastle group's expeditions, nor of any subsequent history of Noel. Fortunately, Philip Wills' legendary exploits have been recorded widely.

Back to Cambridge (for Isaac Newton was a Cambridge man). Pete Whitehead ( author of this history), a Yorkshireman, went up to Pembroke College to read Engineering, and discovered gliding with Cambridge University Gliding Club (CUGC). Swapping the beauty of sailing for the beauty of flight helped with the misery of living in a flat earth punctuated only by the Gog Magog Hills (not what a Yorkshireman would call "hills"!), and started a long-lived love affair. Soon solo, I helped create a student Skylark II syndicate, and, also, had the joy of meeting Anthony and Catharina Edwards and family in their Trumpington home. There was talk of bungeying expeditions from proper hills, and a new world was opened up for me. Anthony had done a bungey expedition to the Cross Fell area, launching from Priest's Crag, near Ullswater, in the 1950's and had also bungey'd in "Cockle", an Olympia (EON) 463 in Aberdeenshire when he and Catharina were living in Aberdeen in the 1960's. (Anthony took an historical aerial photo of the first ever launch from Aboyne after he had taken a bungey launch from a site near Banchory, the Hill of Fare. The picture can be seen in the bar of Deeside Gliding Club at Aboyne). Anthony showed me Terence Horsley's book with the exciting account of Noel McLean's flight in the Helm Wind and Horsely's ideas about the potential for a gliding club near Hartside (just a few miles north of Cross Fell). Horsley, like others from that era, was thinking about a hill-top site, like Sutton Bank, the Longmynd and Camphill, but it took until 2007 as well as the change in fashion to launching from the bottom, to realise this goal.

CUGC and Midland Gliding Club (at The Longmynd, Shropshire) had an unusual link in the 60's and 70's. We used to take the CUGC club, lock stock and barrel including gliders and winch, to the "Mynd" for twice per year "camps" in June and September whilst the MGC took staff holidays. It gave a wonderful "fix" for those who love the hills, and experience of ridge and wave flying from a more challenging site. I had my first flights in CUGC's T21 ("Bluebell") there in 1972.

Anthony and Catharina took a group of CUGC students on a bungey expedition to Dorset in 1973 (The Bincombe Bumps Expedition) when some launches in minimal wind took place, Des Pearce putting up the longest fight/flight to the bottom. That gave an appetite for bigger things and the April 1974 "CUGC Cross Fell Expedition" was organised. The winds were southerly and we launched from Orton Scar, near Tebay, and then Croglin Fell near Hartside on the Crossfell range. Some soaring was done, but none in westerlies in the ridge lift on the Cross Fell range or in the Lake District, and certainly no flying in the Helm Wind. It did, however fuel my ambitions to build a winch and do more bungeying expeditions when I joined Edinburgh University Gliding Club in 1976. Anthony kindly let me become trustee of his bungey gear which a few of us, from my new club, used in the Lammermuir Hills south of Edinburgh.

The winch slowly evolved, but only really was finished when I moved to Skipton in North Yorkshire in 1983, and when I was presented with the wreck of my beautiful Rover 3500 after an argument with a local estate agent (his fault, I won). A low mileage 3500CC V8 with automatic transmission, purchased for a pittance from the insurance company, just the job for a portable/trailered winch.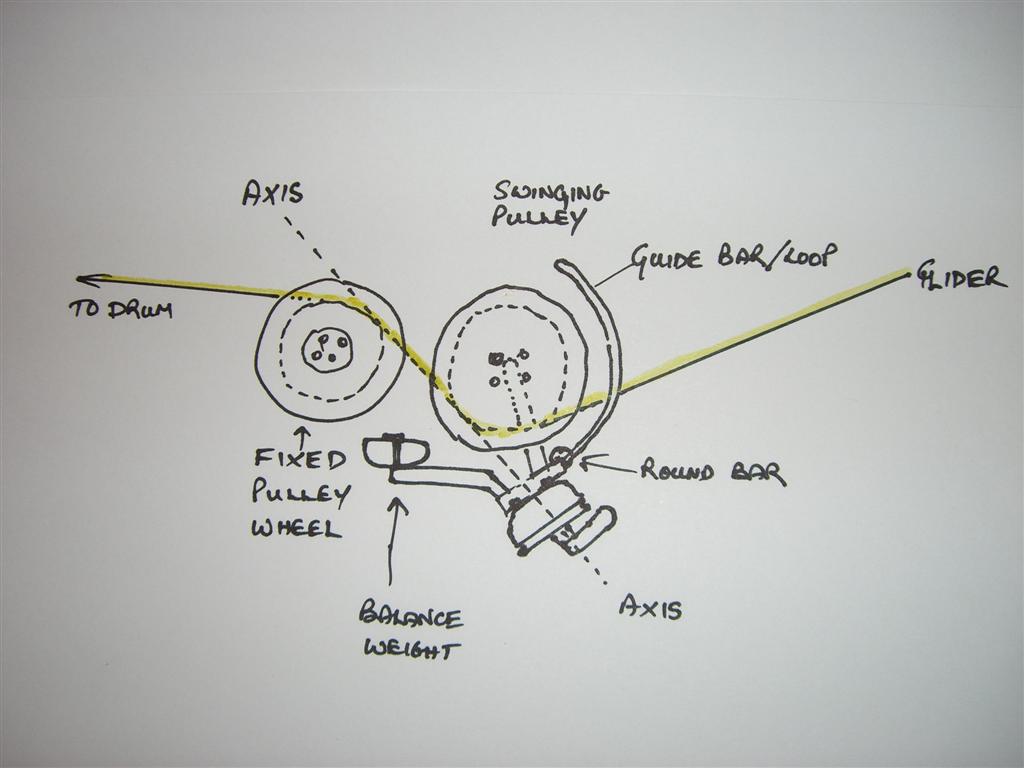 The winch is only a means to an end, of course, but it has done well for us, year in, year out except for the Foot and Mouth year (2001, we did our May expedition at Aboyne), since 1985, and is going strong and was used on the expedition September 2016 (High Field, near Keswick). The pay-on pulleys are the key ingredient to trouble-free winching, and we have used piano wire without problems, replaced just once because of too many knots (wire at approx. £70 per 1000m must be the most economical way and is fine for our purposes. Less so for a very busy club, though some clubs used piano wire for decades).

The winch was finished an in action on expeditions from 1985 onwards. Our first expedition site was Askham Fell which was particularly good in westerly winds with some north in them, the launch allowed a quick journey to Barton Fell over Ullswater, and from there a steady climb south to High Street, then to Place Fell and through Grisedale onto Seat Sandal and Helvellyn, Scafell and most of the Lake District. We soon switched to Latrigg which became our main launch site from 1986 to 2014. Vehicular traffic needed for our launching became restricted because of Higher Level Grant Scheme rules. Latrigg was for us an amazing all-direction ( save for a small sector from the north) site, being excellent in NW round through S to NE winds. Long ridge flying courses through the mountains were possible in W to SW winds, with a "milk run" to Kirky Lonsdale and back, and in E to SE winds with a challenging run from the west side of Bassenthwaite down to Coniston Old Man, Black Combe and back. That was without thermals or wave which were in plentiful supply, which allowed wide-ranging flights around the Lake District, Pennines, and Yorkshire Dales.

In 2006 we explored the idea of setting up a "proper" gliding club near the foot of Cross Fell, after a very successful aerotow expedition from Carlisle. We used the expedition winch with a pulley to take the cable over a wall separating two 450 metre fields with Thomas Edwards (son of Anthony and Catharina Edwards) doing the very first trial launch in Nov 2006. The club set up by us at Skelling Farm, Edensoaring, is now growing, is a member of the British Gliding Association and is training new pilots as well as hosting groups of visiting glider pilots from all over the UK. The founder members have now retreated from this fixed base to concentrate on our "expedition flying". Our name change from our original Eden Soaring Society to UK Mountain Soaring Group is to clarify the separate development of the two entities.

The black and white photo shows Brigadier Spedding, of the Mirehouse family, flying a glider from Latrigg at some time between the 1920's and 1930's, so there has been gliding from Latrigg over a long period.

Members from the Derby and Lancs. GC mounted a couple of bungey expeditions to Latrigg in the 1950's, and one of our members, Mike Armstrong remembers being a five-year-old boy watching his father and friends launch from there. (An article in S&G is in the "articles" section of this website)

The CUGC group, effectively the main forerunner of gliding by Eden Soaring Society, did a bungey-launching expedition from Priest's Crag, Ullswater, in SE winds in the 1950's with some notable flights across to Blencathra and further. (S&G article re-printed here).

The future? We shall continue flying from our new sites in the Northern Lakes, as well as in the Yorkshire Dales. We plan to mount expeditions to North Wales, Scotland, and possibly the Isle of Man and Northern Ireland. We have at our disposal our portable winch, new bungey equipment and a very portable system for launching with a 2 to 1, or 3 to 1, auto-tow system (which thus needs a low speed by the towing vehicle, videos of two launches on this website). Equipment and sites in beautiful places are important but what makes our activities so special are the friendships forged between such able and experienced glider pilots, sharing this passion. Our children and other members of the younger generation will hopefully join us and keep the spirit of expedition gliding alive for a long time yet.

PSW Jan 2017